Last night we searched our cupboards and found not one thing sweet to eat. So, I searched online for a recipe I could make without having to run to the store. I came across
Food Network's Snickerdoodles
recipe
, and happily saw that I had
ALMOST
all the ingredients. No biggie,... with a few minor changes I figured I could make it work. Unfortunately we were out of cinnamon (Seriously, who doesn't have cinnamon?... apparently us.), and we didn't have quite enough butter so I supplemented the shortage with a bit of coconut oil. It was a success. Here's my revised version. You gotta try it...
TOPPING
3 tablespoons sugar
1/4 teaspoon nutmeg
COOKIE DOUGH
3 1/2 cups flour
1 tablespoon baking powder
2 teaspoons baking soda
1/4 teaspoon salt
1/4 teaspoon nutmeg
1/2 cup butter
2 tablespoons coconut oil
2 cups sugar
2 eggs
1 tablespoon maple syrup
2 1/2 teaspoons vanilla extract
DIRECTIONS
In a small bowl, stir together the sugar and nutmeg and set aside. To make the cookie dough, stir together the dry ingredients (wait on the sugar).
In another bowl, mix the butter & coconut oil (gradually building the speed). Note: If your butter and coconut oil are fresh from the fridge you may need to use a pastry blender to break them down a bit before mixing. Add the sugar and continue to mix, then add the eggs, maple syrup, and vanilla, and mix thoroughly. Add the dry ingredients and mix until blended.
Preheat oven to 375 degrees F. Roll dough into balls about one inch in diameter. Then roll them in the nutmeg/sugar topping to coat. Place on an un-greased sheet pan (approx. 2 inches apart). Bake for 8 to 10 minutes until puffed up and the surface is slightly cracked. Let cool on the sheet pan a few minutes before removing to a wire rack or parchment paper to cool.
These are delicious with pretty much any kind of tea.
But today I made a chai green tea with whole milk and agave nectar...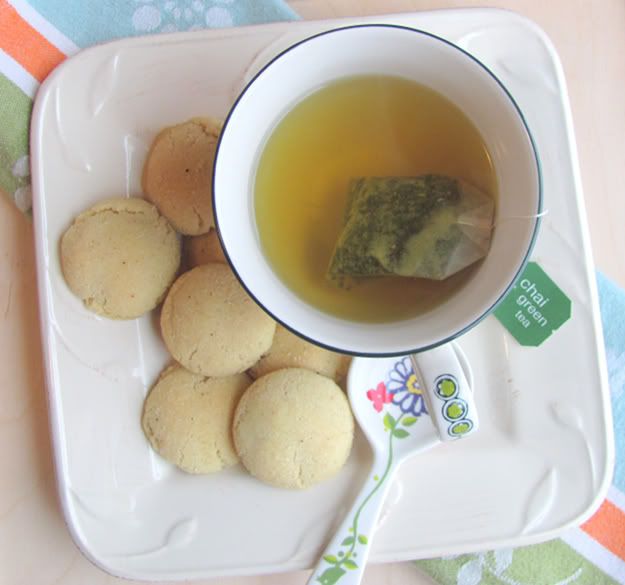 Needless to say, it was delicious...
Happy Tuesday everyone.