To kick off my weekend project series, I'm super excited to share this darling little toy box idea. This was a project I finished awhile ago but never properly photographed until recently. And then with the move...well you get the idea.
My little sweetheart has been accumulating his fair share of toys, thanks to the generosity of church friends and family. So many wonderful little toys so desperately in need of their own little box to call home.
After doing a search for DIY storage boxes and not finding any I loved wholeheartedly, I decided to make my own pattern...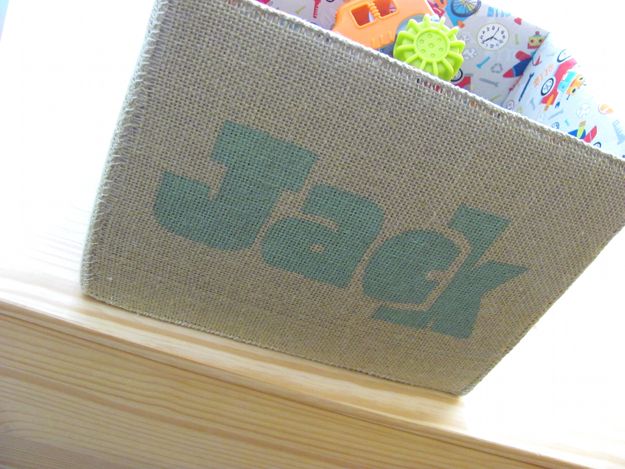 Burlap seems to be my fabric of choice lately. What can I say? I simply can't get enough. It's very possible there will be some burlap curtains in my future.
The stencil is my own design. I drew it onto thin cardboard, cut it out and painted it on with fabric paint. I still feel occasionally dissatisfied with the "c" and "k," thanks to my annoying bouts with perfectionism, but alas beauty is in the imperfection no?
The pattern is really quite simple, though I admit, time consuming. Each box has five cardboard panels. Each panel is covered with its own fabric sleeve which was machine sewn on three sides and left open on the fourth. (The cardboard panel slides into the fabric sleeve). The panels are then stitched together with thick embroidery floss. And poof! You've got a box!
Needless to say, Jack plays with his box almost nearly as much as he plays with his toys. I only wish I had double-layered the cardboard so I wouldn't cringe every time he tries to climb into it.
Happy weekend dear friends. I hope its a lovely one!
xx,