I must start by admitting I've already shared all three of these photos via instragram. So for some of you this post will be nothing new. I have however been wanting to do a home update on this blog since moving into our new place and these photos seem to tell the story best.
The living room was actually the final room to come together for us largely due to the fact that we needed to purchase a larger couch to fill the space. Unfortunately this took a bit of trial and error. We purchased one couch via the internet and had it delivered only to decide (after a week or two) that it did absolutely nothing for our space. Admitting our mistake, we rented a U-haul and made the return. The couch below was our successful second attempt. I am indeed thoroughly in love with it and so far the white hasn't been a problem (knock on wood).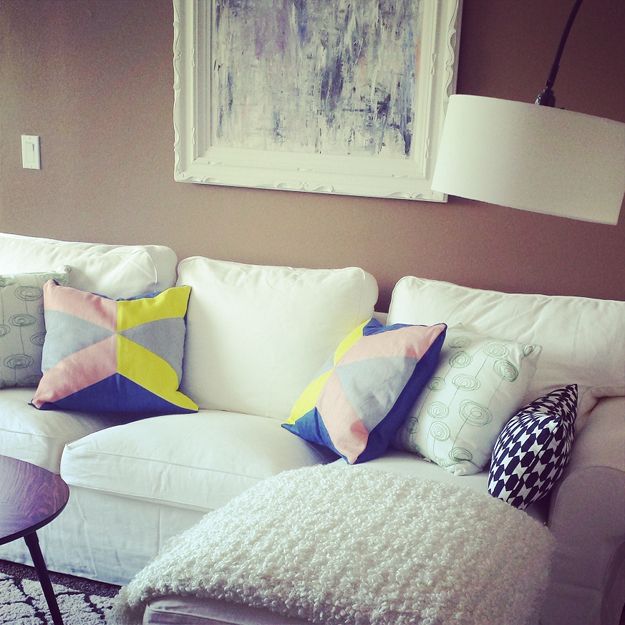 You may remember the frame above the couch from
this post
? I truly am ashamed to admit I had that frame for eight years before finally tackling it as a project and turning it into something beautiful. But oh was it worth the wait...
After perusing (to no avail) the internet for an inexpensive print to fill the frame, I sat myself down to do some painting. I used curtain fabric as my canvas since I had an abundance left over from the curtains I hemmed in Jack's room. You may laugh but I can't help savoring the thrill of my resourcefulness. The paint colors are a combination of little "count-by-number" colors I just happened to have on hand and the can of white furniture paint I used to paint the frame. The cardboard backing I used was given to me free by our nearby hardware store. Aside from the bit of hardware we purchased for hanging, I didn't have to spend another penny to complete this piece of art. Now that is what I call success!
And as for the other side of the room...
We found the mounted cabinet in the "as is" section of Ikea. Works perfectly for storing my piano music and has proved to be most functional. As you can plainly see, our little future musician approves.
Happy Tuesday everyone! May it be a terrific one.