I am no old mother hubbard, but since I'm going to be talking about my cupboard I could hardly resist the rhyme. My cupboards are indeed not bare, but quite filled with dishes each with a story to share.
My
bowl with a design
on the top shelf. I own two of them, but of course you only see one as the other is awaiting a washing. These bowls remind me of a spontaneous shopping trip with my husband. We spent an afternoon in town and I found them on sale at T.J. Max. The design is done in green stencil. My favorite color, how could I resist?
The
glasses.
A gift from my husband's brother for Christmas last year.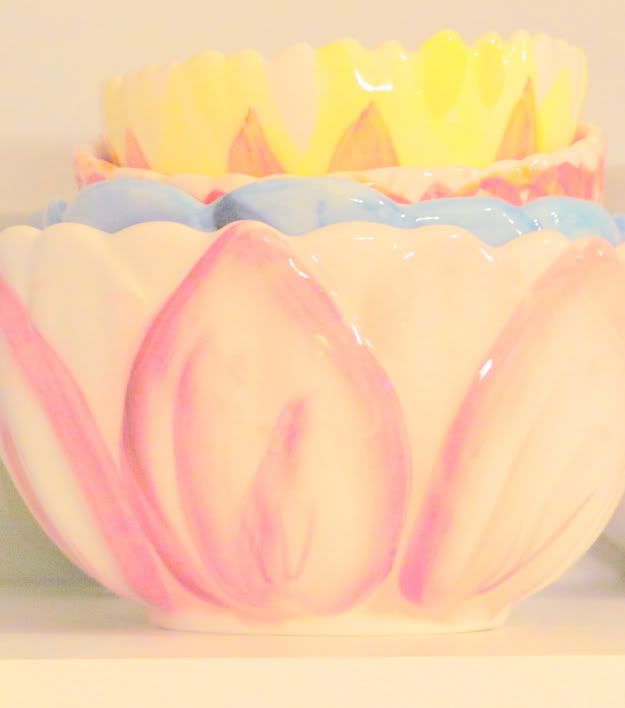 My
measuring cups
. These were a wedding gift from two dear friends who were personal attendants at my wedding.
My
green glass serving dish.
I do believe this was a present from my sister, but I can't remember for certain. Hopefully she'll read this and set me straight. I just can't remember if it was a present or just one of those items that used to be hers and mysteriously found its way into my collection.
Ah yes,
the bowl
again. You also can catch a glimpse of a decorative serving plate above. This belongs to a set of three plates and one serving bowl. It was a thrift store find from a few years back that I couldn't bring myself to get rid of when we got married.
My
white dinner plates.
These (please don't laugh) are from Cub Foods. Yes, classy, I know. I like them because they're sturdy, simple, and delightfully inexpensive.
My
mustard colored cooking pan
. This was a birthday gift from my brother and his beautiful wife. I'm in love with the color and adorable design; its the perfect size for serving two.
Any stories sitting in your cupboards waiting to be told?